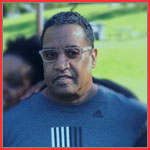 Sankara Frazier - Executive Director, Founder
Sankara is a native of Minneapolis with family dating back to the 1800's in the state of Minnesota. He has well over 30 years of community service, starting with the Southside Youth Neighborhood Organization (SYNO), which he and three colleagues started in the mid-70's focusing on various community projects and family development. In the late-80's he managed youth programs at Bernadette's Teen Club in the Uptown YWCA, which included after-school tutoring, aerobics, cultural activities, sports and weekend social events. He has also been a licensed foster care parent.
His involvement in boxing dates back to amateur boxing as a child, boxing for the Pillsbury House and the Phyllis Wheatley Center coached by Eddie Lacey, Danny Davis ,as well as his father, the late Bishop Stanley Neil Frazier (Church of God in Christ) and later at the Lake Street Gym and 7th Street Gym under Bob Porter and Gilbert Mitchell, Sr. Sankara also trained in California and has coached and trained boxers in a number of gyms throughout North and South Minneapolis, St. Paul, Ohio, California and New York. Currently, he is a Level IV International USA Boxing Coach, certified through the United States Olympic Committee and USA Boxing. He has coached three number one USA Boxing ranked amateurs and presently trains the number two ranked amateur. In 2007 he was selected as an assistant coach to travel to Baku, Azerbaijan with the USA Cadet Boxing Team. Mr. Frazier is also a professional boxing trainer, a Grand Master in the Martial Arts with a 9th Degree Black Sash in Wu Shu (Kung Fu) and has CPR and First Aid certification. His extensive background as a Coach and Martial Arts Instructor has allowed him to personally train a variety of individuals; some of which have been WBA and IBF World Champions, a motion picture actor (Josh Hartnett), hockey player (Joe Finley), business owner (Lisa Bauch of Uppercut Gym), former Olympiad (Arthur A. Johnson), and a many others-- from members of SWAT to United States Marines.
As an entrepreneur, he has been the owner of Executive Protection Security companies. In 2004, he received the Abbott Northwestern Hospital "Abby" Award and the Martin Luther King Jr. "Local Legend" Award in 2007, both recognizing him for his outstanding community service. Sankara is always in a growing process by continuing to train, learn and strive for higher levels.
---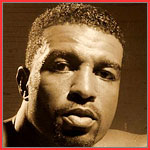 Adonis Frazier - Senior Program Advocate, National Boxing Coach
Adonis is a native of Minneapolis, MN and graduate of Washburn High School. Mr. Frazier is a community advocate and has worked in a number of high schools and middle schools and also assisted in organizing the collaboration between Brooklyn Park Junior High and the Circle of Discipline, Inc.
Prior to becoming a Program Advocate, he was an amateur and a professional boxer coming along with the same group as Floyd Mayweather, Antonio Tarver, and the late Diego Corrales, but had to stop boxing after sustaining an injury in an automobile accident. He in turn used the skills that he had developed in boxing along with his entertainment talent as a "rapper" in the group The C.O.R.E. (Children of Righteous Elevation) to work diligently in the community to open up the minds and hearts of at-risk youth.
He has followed in the footsteps of his family going back to his grandparents and his parents by working unselfishly to put back what has been lost in his community as well as the communities of people that we have embraced. Through the Organizing Apprenticeship Project he successfully completed an eight week training focused on involving and organizing the community on various issues. He utilizes all available sources to teach social skills, leadership and life skills to the participants so that they are able to reach their full potential. As a Level III Boxing Coach, certified by the United States Olympic Committee and USA Boxing he organizes events, tournaments and travel for the Circle's boxing team. He is also the Vice President on the Minnesota USA Boxing Board and is responsible for organizing state USA and regional championship tournaments which lead to national and international competition and a doorway for Olympic hopefuls. He is also certified in CRP and First Aid. He continues to fight the never-ending political battle that has existed since his involvement for over 15 years.
---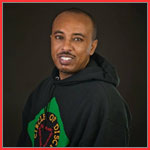 Nathaniel "Kid" Haile - Volunteer Program Advocate
Nathaniel has been affiliated with the Circle from the age of 13. He has competed in amateur boxing, which is where he got his nickname "Kid" because his boxing style was much like Kid Gavilán's, the great welterweight champion of the late1940's. Kid is a graduate of Roosevelt High School and attended the University of Minnesota.
His dedication to youth has been one of the reasons he has been involved in the Circle in many capacities over the years. He previously been on the Board of Directors as a Youth Representative and as the Treasurer; he has worked in the school system as a YAC (Youth Accepting Challenge) Instructor at Sanford Middle School, Roosevelt High School and El Colegio. He is currently a Volunteer Program Advocate serving as a liaison between Circle participants, their respective schools and the parents and is also responsible for the day-to-day functionality of the Circle facility.
He is employed as a fulltime residential youth worker at Hennepin County Juvenile Detention Center, and a JDAI (Juvenile Detention Alternatives Initiative) Community Coach in Ramsey County.
---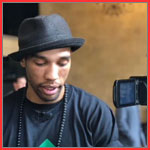 Jamal James - Volunteer Program Advocate
Jamal James is a former participant of the Circle of Discipline, joining the boxing program at five and began competing at age ten. Throughout his amateur boxing career he won numerous state, regional and national tournaments including the Ohio State, Ringside World Championships, National Police Athletic League, National Platinum Gloves and was a Silver Medalist in the National Golden Gloves. He was ranked number one in the nation through USA Boxing. Currently, he is a professional boxer, an amateur boxing coach and volunteers as a Program Advocate at the Circle of Discipline.
He is a positive role model for many of the youth and young adults at the Circle and the community. Jamal is a graduate of Roosevelt High School and received the Abby Award through Abbott Northwestern Hospital for his "Outstanding Community Service" while a junior in high school. Jamal is one of many success stories at the Circle of Discipline and received a scholarship through the Power of YOU project to attend Minneapolis Community and Technical College (MCTC). He also received training in Washington, DC as an instructor for the Village School Program. He has learned the importance of giving back to his community and living a healthy lifestyle through physical fitness, proper nutrition and discipline.
---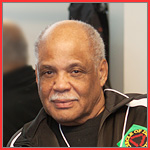 Asa "Skeets" Grisgby – Volunteer Boxing Coach
Mr. Grisgby is native of Minnesota and was an amateur boxer at the well-known Phyllis Wheatley Center. It is there that he became acquainted with the late Bishop S. N. Frazier and to this day considers the new generations of "Frazier's" to be his extended family. He has been a trainer for a number of years, some of which were training his nephew, Will "Steel" Grisgby for three World Titles (WBC, WBA and IBF). He is lovingly know as "Uncle Skeets" at the Circle is a valued volunteer working with the youth and young adults with boxing training and constantly encouraging them to continue their education and to give back.
---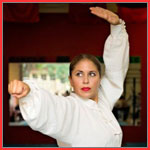 Jen Abalan - Volunteer Assistant Martial Arts Instructor
Jen is a native of Minnesota, born and raised in Duluth and has been involved at the Circle for three years after she came to enroll her son in the amateur boxing program. Jen is a Registered Nurse in the Neurological ICU at Abbott-Northwestern Hospital and is currently striving for her Black Sash in Wu Shu (Kung-Fu). She is dedicated in helping the Circle and has volunteered for the past two years working as an Assistant Martial Arts instructor and has been a liaison between a number of youth, their parents and the school system as a Program Advocate. She is starting a nutritional education program at the Circle, utilizing resources from Abbott, to teach the community how to lead a healthier life. She is also being trained as a cut woman, to work the corner for professional fights.
---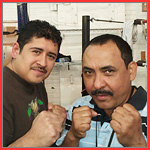 Juan Ramirez and Dante Rivera - Volunteer Coaches